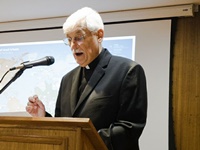 Father General Arturo Sosa says Jesuit schools are a magnificent platform for listening to and serving the youth. Father General said this on 20 October, 2017 in Rio di Janeiro where he addressed the International Congress for Jesuit Education (JESEDU-Rio2017). Addressing the more than 100 Jesuits and collaborators from around the world, Father General reminded them that "Education and schools in particular, are part of the Society's missionary tradition." 
JESEDU-Rio2017, Father General said, "is an expression of the thanks we give to God and our benefactors in this area, an affirmation of the importance of the educational apostolate and a push to seek the audacity of the impossible that can carry us even further."
Fr Sosa recalled that his predecessors, Frs. Pedro Arrupe and Peter-Hans Kolvenbach had often stated that the purpose of Jesuit education was "to train men and women for others and with others." He noted JESEDU-Rio2017 was important as it brought together people serving in traditional education institutions and those serving in "new institutional models, born to offer quality education to the poor and excluded, such as Fe y Alegría, Cristo Rey, or Nativity Schools, in addition to the educational services offered by the JRS, enrich the Society of Jesus' educational apostolate in the world."
Father General reminded the participants that "Our mission comes from the Christian faith. It is a service of reconciliation and justice born of the life of Christ, and it must be completed in his way, according to the conditions of our world."  11 delegates from South Asia actively participated in this important meeting organised by ICAJE.