(14-May-2018)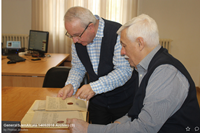 Father General, Arturo Sosa, visited the Jesuit community of Alcalá de Henares this Monday, May 14, accompanied by the Provincial, Antonio España, the Regional Assistant for Southern Europe, Joaquín Barrero, and the Delegate for the Third Age, Cipriano Díaz. Fr Sosa arrived at Colegio San Ignacio de Loyola, where the community is located, after meeting with the Bishop of the Diocese of Alcalá de Henares, Juan Antonio Reig Pla.
On his arrival, Father General was received by Rafael Mateos, superior of the community. Together they went to the infirmary, where they greeted the Jesuits of this community individually. At noon, Fr. Sosa presided at the Eucharist on the feast of St. Matthias. In his homily, he urged us to follow the example of the Apostle by accepting "the Lord's call with gratitude". He also recalled the treatment of Jesuits as "friends in the Lord to the extent that we are friends of the Lord. Without him we can do nothing." Fr Sosa also expressed his gratitude by emphasizing that "friendship is giving one's life, and in this community there are many lives given to the Lord."
Father General Arturo Sosa highlighted the figure of Pedro Arrupe as an example of someone who gave his life to the Lord and asked those present to "put Arrupe in their prayers and ask for his beatification". He also asked for prayer for the Society: "In any discernment, it is necessary to make clear how one has to make the decision. Therefore, pray to help us so that the Society may be able to discern."
After Mass, Father General went to the Historical Archives of the Province of Spain on a visit led by Brother Wenceslao Soto, director of the Archives, together with the Jesuits Amancio Arnáiz and Juan Andrés Llauger who work there. Among others, Br Soto introduced Father Sosa to some of the most valuable documents in the archive, such as a facsimile edition of Elizabeth the Catholic's will, a late 14th century scroll or a royal provision of Juana 'la Loca'. Fr Sosa was particularly interested in a document signed in Caracas in 1729 and several letters from the Jesuit Cristóbal Ferreira, whose life was narrated in the film Silence.
Father General shared lunch with the community, thus ending his visit to the Province of Spain which began on Friday with the meeting of the superiors of the Jesuit communities. In this trip, Fr Sosa has had meetings with lay people and Jesuits from the PAL of Madrid, members of the executive teams of the Education Sector and has visited Villagarcía and Valladolid to finish in Alcalá de Henares. He will soon return to Spain for the international meeting of Jesuit universities, which will take place from July 8 to 12 in Bilbao and Loyola; he will also visit Catalonia from September 21 to 27 for the meetings of Jesuits from Europe.
Curia Web